101 Ways to Get Wild About Work
Title: 101 Ways to Get Wild About Work
Subtitle: Ideas for Turning Dreams Into Reality
Author: Curt Rosengren
Category: Career, Self-Help
Length: 215 Pages
Binding: 6 x 9 Trade Paperback
Retail Price: $15.95 US
Publisher: Passion Catalyst Publishing
Publication Date: January 1st, 2007

Packed with a potent blend of helpful insights and nuts-and-bolts action steps, 101 Ways to Get Wild About Work serves up a smorgasbord of easy to absorb, easy to implement ideas to help you turn your dreams into reality.

Written with the busy professional in mind, 101 Ways to Get Wild About Work is designed to allow the reader to work through it one small, manageable piece at a time. Each idea is a two-paged blend of insights and actions steps. The reader can go through the book front to back, or take a buffet-style approach, picking and choosing whatever feels relevant. An at-a-glance guide organized by topic (e.g. Self-exploration, Overcoming obstacles, Goal setting, Staying energized) makes it easy to find the right idea at the moment.

The Occupational Adventure Guide:
A Travel Guide to the Career of Your Dreams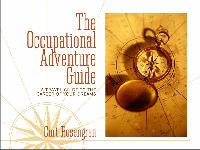 Title: The Occupational Adventure Guide
Subtitle: A Travel Guide to the Career of Your Dreams
Author: Curt Rosengren
Category: Career, Self-Help
Length: 215 Pages
Binding: E-book
Retail Price: $14.95 US
Publisher: Passion Catalyst Publishing
Publication Date: January 1st, 2004
The Occupational Adventure Guide reveals the secret to creating a career that lights you up. With a step-by-step, common sense, no-nonsense approach it will help you find clarity, take action, get traction, and make it happen.
The Occupational Adventure Guide simplifies the process of finding passion in your career. The book takes it out of the nebulous, head-scratching realm and offers a clearly defined process to identify what lights you up, generate and evaluate career path ideas, and map out how to make it happen.
The process is designed to help you you incorporate both your intuitive heart and your logical mind so they can work together, rather than in opposition. Together, the heart and mind make an unbeatable team!